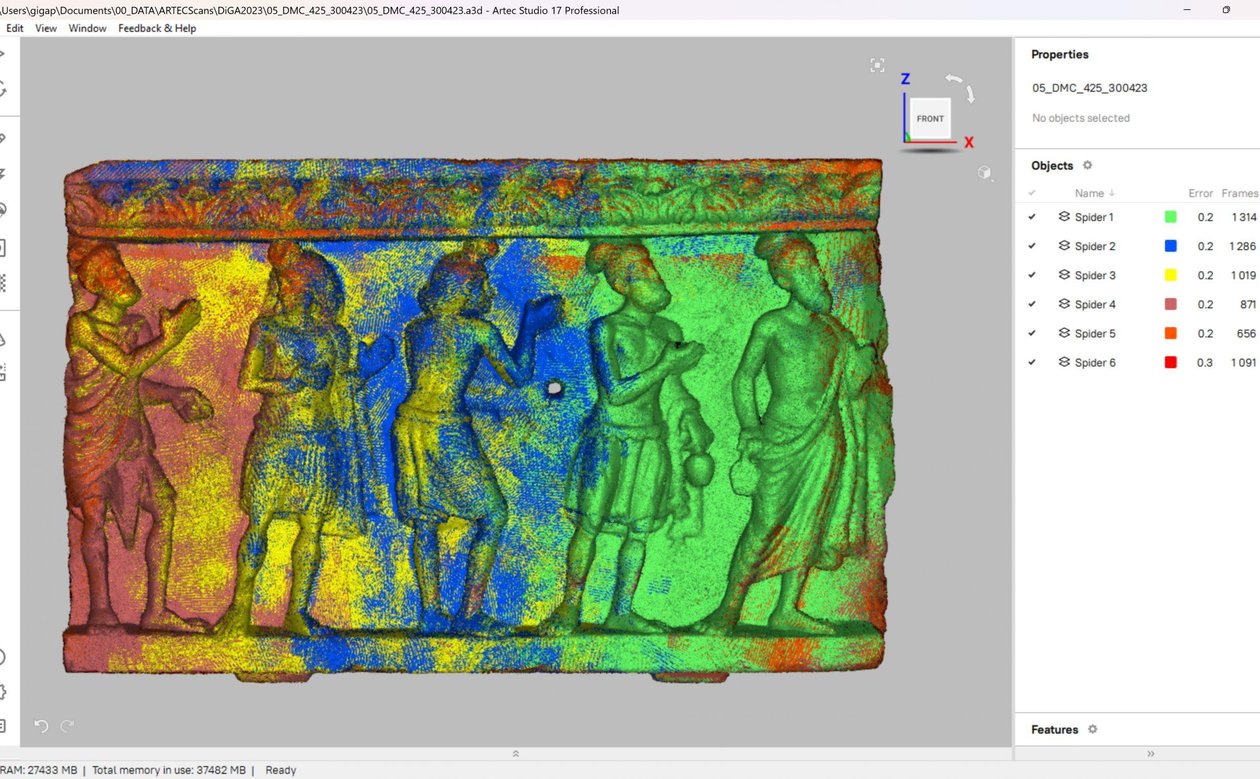 "The best way to move forward is to share this data openly"
Many Buddhist sculptures from Gandhara were discovered at the turn of the 20th century by excavators who did not know or respect scientific standards. Their entry into museum collections is often difficult to reconstruct, giving rise to an intractability of archaeological remains that hobbles the progress of Gandhara studies.
The Bochum-based project Digitalisation of Gandharan Artefacts (DiGA) consists of a team of trained specialists who collaborate regularly with the Directorate of Archaeology and Museums, Government of Khyber Pakhtunkhwa (KPDOAM) in Pakistan. The project members Jessie Pons, Frederik Elwert, Cristiano Moscatelli, Serena Autiero and photographer Calin Suteu spoke to Buddhistdoor Global (BDG) after their recent trip in April to Khyber-Pakhtunkhwa about their unique mission and landmark accomplishments.
BDG: How did DiGA first secure the collaborative relationship with the Pakistani government to strengthen the foundation of Gandharan studies and analyze Gandharan material culture?
Jessie Pons: I think that the foundations of the collaboration were laid in 2016, during the prequel of the DiGA project. It must be said that the Italian Archaeological Mission in Pakistan, which has a long-standing relationship with KPDOAM, was instrumental in establishing the contact between DiGA and Pakistani authorities.
At the time, we were developing our digital concept and surveying different Pakistani collections of Gandharan art for documentation. We decided to work on Chakdara, which is manageable in terms of size and unlike many other collections, composed of objects found during scientific excavations. I contacted Dr. Abdul Samad to express our interest in working on the collection in Chakdara and gradually, through a series of email exchanges, we drafted the scheme of our collaboration. This was officialized in a Memorandum of Understanding signed in November 2017.
When the new DiGA project started, we invited Dr. Samad to Bochum for a few days to discuss our common roadmap for the project and possible follow-ups. Since then, both parties have really tried their best to further the advancement and dissemination of knowledge through research and training activities organized jointly.
BDG: You scheduled three photographic campaigns at Saidu Sharif and Chakdara for 2021, 2022, and 2023. What did you hope to accomplish during your trip this year?
Jessie Pons: Contrary to what we expected when we started our project, COVID didn't affect our schedule. It made the logistics of our trip in 2021 more complicated in that we had to comply with all the hygiene measures. That generated a bit of paperwork. During the application phase of the DiGA project, we were required to develop 2 alternative work plans to respond to the pandemic. We had made provisions in case we would not be able to travel.
We had to activate our plan B in 2022, not because of the pandemic, but due to unexpected events. We set up a remote digital campaign in collaboration with our colleagues from KPDOAM. They travelled to the Museum in Chakdara every weekend for several months to resume the digital campaign. We could not be more grateful for the wonderful work they have done.
This year we managed to complete the digitization of the whole collection with 2D photography, and scanned a good number of sculptures for 3D documentation. When we arrived in April, we still had just under 500 objects to digitize. This would not have been possible without the help of our Pakistani colleagues who backed us up with the 2D digitization.
BDG: Can you explain a little more in lay terms the two components of this project: DiGA: Development of a Digital Concept for Gandharan Artefacts and Linked Open Data in Gandharan Buddhist Art and Texts?
Frederik Elwert: There were two predecessor projects to what is now DiGA. First, the German Ministry of Education and Research funded a series of projects to develop concepts for digitizing cultural heritage collections. In this first phase, we made sure that we had a solid plan for the actual project. Second, we wanted to make sure that our project does not live in isolation, but fits into the wider landscape of current initiatives. To this end, we were grateful to receive funding from the Pelagios network to hold a workshop on the use of Linked Open Data (LOD) technologies in Gandharan studies.
LOD, in a nutshell, is a way for projects to share data and build on each other's work. The collection we are working on is valuable in itself, but what can be learned from it is enhanced when it is linked to other object collections or even textual databases. One of the ways we are pursuing this idea in the current project is through our Digitization of Gandharan Artefacts Thesaurus. Put simply, this thesaurus ensures that we all use the same terms to talk about Buddhist characters, stories and iconography. It is already being used in a number of other projects, which will hopefully support our aim of sharing information across institutional boundaries.
This preparatory work has finally convinced the German Ministry of Education and Research to fund our current project, enabling us to actually carry out the digitization. We believe that the best way to move forward in this field is to share this kind of data openly, so that different communities can use and benefit from this rich cultural heritage.
BDG: Take us through the process from the 2D photography to the 3D scanning into the database.
Calin Suteu: If photography is seen as the go-to 2D medium in cultural heritage documentation, 3D scanning brings another dimension to the viewer. Pixels of information gathered with the help of a laser scanner now have all the coordinates (X,Y and Z) needed to represent an object in space, in the form of 3D models. Our work with the DiGA project concerns the record of complex and beautiful art pieces in 3D, to be shared with researchers and the public using easily available internet tools.
Cristiano Moscatelli: The workflow is pretty straightforward. It begins with the cleaning and measuring of the object, and we take note of potential distinctive elements—such as Karoshthi marks—and pieces that belong together.
The next step is the photographic documentation. We use a Lightbox which is a good compromise regarding portability and light control. The object is photographed following a fixed order. The first photo must show the front side with the inventory number on a label. This photo is not to be published, but we need it just as a reference. Then we shoot all the sides: front—without label—proper left and right view, back, top and bottom. Once the photographic documentation is done, we ensure all sides have been taken and are readable. Then post-production editing is the way to go.
The final step is the description and digital publication of the piece. The description is based on our Thesaurus, which draws upon the Repertory of Terms for Cataloguing Gandharan Sculptures (2007) by Domenico Faccenna and Anna Filigenzi. Once the description is done, the piece and its related metadata are uploaded on heidICON, the image and multimedia database of the Heidelberg University Library, Germany, one of our partners. The piece is finally published and made available on open access.
BDG: You recently lent your name to a heritage photography workshop in collaboration with KPDOAM's Digital Heritage Centre. What activities and initiatives do you engage in with students and specialists in Pakistan so they can be both beneficiaries as well as partners in your work?
Serena Autiero: This Heritage Photography workshop is only the latest example of the training activities connected to the DiGA Project.
During the first fieldwork in 2021, every Thursday, 17 participants selected among the KPDOAM staff and faculty from local universities joined the team in Chakdara to attend the training program we organized in coordination with Dr. Abdul Samad. The program focused on digital tools for the management, conservation, cataloguing, and preservation of museum collections. The structure was based on a "learning-by-doing" approach, aimed at developing key basic competences for planning and implementing a digital database of archaeological materials. The participants were introduced to the use of standardized vocabularies for the descriptions of items, to a methodical workflow for photographic documentation and finally to the creation of a digital repository. The final project was a digital exhibition titled "KP Diffused Museum: A Digital Exhibition of Networked Collections."
If you want to read the full interview by Raymond Lam and see more pictures of the work of DiGA, just visit www.buddhistdoor.net. Raymond Lam is senior writer at BDG. Born in Hong Kong, he grew up in Brisbane, Australia and earned his BA in studies in religion at The University of Queensland and his MA in Buddhist Studies in London.