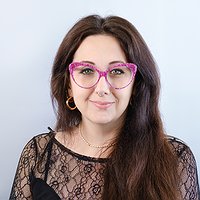 Dr. Serena Autiero
Research Associate DiGA
Serena Autiero is an archaeologist and historian, she specializes in Global Studies, Transcultural contacts and Silk Road Studies. Her research is particularly focused on the outputs of transregional and transcultural contacts in South Asia and bordering areas.
Before joining the CERES, she worked at Sun Yat-sen University in Guangzhou (PRC) as researcher in Buddhist Archaeology and Buddhist Social History; she previously earned a research fellowship from UNESCO India and worked as Assistant Professor in Art History at the Princess Nourah bint Abdulrahman University of Riyadh (Kingdom of Saudi Arabia).
She completed her PhD in 2012 at the Sapienza University of Rome, with the thesis "Cultural and trade contact in the Western Indian Ocean according to historical, literary, epigraphical, numismatic, archaeological and art-historical data (3rdcent.BC – 5th cent. AD)".
Since 2005 she's been part of the Italian Archaeological Mission in Nepal ("L'Orientale" University of Naples) and then she participated to the Italian Archaeological Mission in the Swat Valley (Pakistan). From 2007 to 2014 she worked for the National Museum of Oriental Art 'G. Tucci' (now Museum of Civilizations), Rome.
Serena Autiero is a member of ISMEO and other international professional associations. She took part in several international conferences and has a long record of lectures in prestigious venues around the world. She published several peer reviewed papers in international academic journals and collective volumes.
Areas of Research
South Asian art and archaeology, Globalization and Transculturality, South Asian religions and cultural history, Gandharan Studies, Inter-religious encounters in South Asia and with neighbouring areas, cultural and religious outputs of ancient networks
Education
Ph.D., Archaeology and History, Sapienza University of Rome, Italy, 2012
Special training course in Safeguard of Cultural Heritage in war thorn areas, Naples, Italy, 2007.
M.A., Archaeology, Specialization in South Asia, 'L'Orientale' University, Naples, Italy, 2007.
B.A., Archeology and Heritage Studies, 'L'Orientale' University, Naples, Italy, 2005.
Professional Experience
2019- jan 2021, Associate Research Professor, Sun Yat-sen University, Guangzhou, China
2018, Research Fellow, Sahapedia UNESCO India
2014-2016, Assistant Professor, Princess Noura bint Abdulrahman, Riyadh, Saudi Arabia.
2007- 2014, Project assistant and external collaborator, National Museum of Oriental Art 'G. Tucci' , Rome, Italy.
Grants and Fellowships
Young Professor Training Program Grant (125k RMB, ca. 16k €), awarded by Sun Yat-Sen University, Guangzhou. Project: Gandhara and the Sea – New Perspectives on the Silk Roads. 2019-2022. Role: PI, solo project. (suspended for covid-19 pandemic).
Key Research Projects Grant (150k RMB, ca. 19k €), awarded by Guangdong Province, PRC. Project: Early iconographic exchange between Southeast Asia and China (3rd-10th c. CE) 2020-2022. Role: Project developer, Senior researcher; PI: Prof. Wei Weiyan, The Guangzhou Academy of Fine Arts.
General Project Grant (200k RMB, ca. 25k €), awarded by National Social Science Fund, PRC. Project: Mediterranean urban hubs in the Classic Period. 2020-2025. Role: Project developer, Senior researcher; PI: Dr. Zhou Fanwen, Sun Yat-sen University.
Grant (800 €) awarded by ISMEO (Rome) for Organizing the session The Archaeology of Globalization at the 25th Meeting of European Archaeologists in Bern, September 2019.
Sahapedia Research Fellowship awarded by UNESCO India. Project: Tholu Bommalata; task: creation of online encyclopaedia contents. 2017-2018.
PhD scholarship awarded by Regione Lazio (local government of Lazio region, Italy). 2007-2011. Scholarship covering university fees, accommodation and pocket money.
MA and BA scholarship awarded by Regione Campania (local government of Campania region, Italy). 2002-2007. Scholarship for students living with their family of origin, covering university fees, and ca. 2000 € bursary per year.